Installing the bulb for the main beam headlights
When installing a bulb, the lug on the base of the bulb must be inserted into the appropriate mounting on the bulb housing.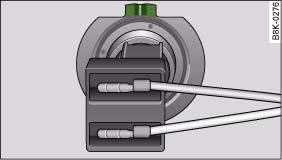 Bulb with connector: The lug on the base of the bulb is highlighted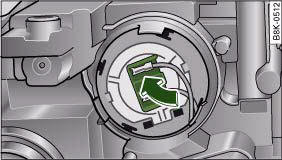 Fitting bulb for main beam headlights
– Attach the new bulb to the connector ⇒

in "Changing bulbs" on page 304.
– Insert the bulb carefully into the bulb housing. Start by placing the base of the bulb directly behind one of the retaining hooks so that the lug fits into the recess on the bulb housing.
– Press the connector in the direction of the arrow ⇒ fig. 293 until the bulb engages.
– Check that the bulb is securely seated in the bulb housing.
– Fit the rubber cap and install the headlight.
– Check whether the new bulb is working.
– Have the headlight settings checked.

Note
Ensure that the rubber cap is seated correctly so that no water can enter the unit.