Removing rear light
To change the bulbs, you must remove the rear light. Removing the light requires a certain degree of practical skill.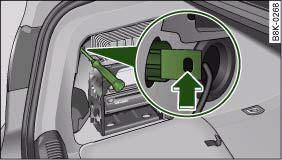 Luggage compartment: Location of retaining screw for rear light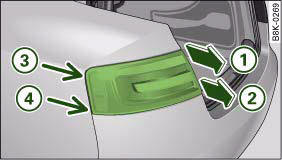 Removing rear light from side panel
Ц Check which of the bulbs is defective.
Ц Open the boot lid.
Ц Remove the side trim.
Ц Insert the screwdriver (from the tool kit) through the side opening in the plastic screw ⇒ fig. 302.
Ц Turn the screwdriver anti-clockwise to loosen the screw and then carefully remove the screw.
Ц Gradually ease the light housing out of the rubber mountings (positions ⇒ fig. 303 3 and 4) by pulling alternately in direction of arrows 1 and 2. If necessary use the tool for changing bulbs from your vehicle's toolkit to carefully apply some pressure between positions 3 and 4 ⇒ !.
Ц Unplug the electrical connector.
Ц Change the defective bulb.

Caution
When removing or installing the rear light, take care not to cause any damage.
Х Removing the rear light in particular can lead to the paintwork or rear light becoming damaged. This is another reason why we recommend having the bulbs changed by a qualified workshop.
Х NEVER use metal tools (e.g. a screwdriver) or sharp or pointed plastic tools to lever out the rear light - risk of damaging the paint.

Note
Make sure you have a soft cloth ready to place under the glass on the rear light, to avoid any scratches.