Changing bulbs
All bulbs can be changed easily after removing the rear light.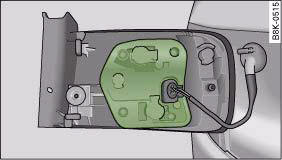 Rear light, mounting plate is highlighted
Ц Detach the bulb carrier.
Ц Renew the defective bulb (pull to remove from plug-in holder or turn to remove from bayonet holder).
Ц Attach the bulb carrier.
Ц Re-install the rear light.