Installing rear light
The rear light is easy to re-install.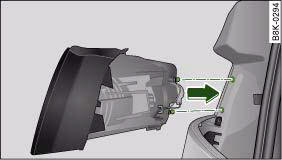 Installing rear light
To re-install the rear light, follow the steps for removal in reverse sequence.
Ц Plug in the electrical connector. Make sure you hear it click into place.
Ц Insert the rear light into the rear light carrier ⇒ fig. 305.
Ц Press the rear light into the two rubber mountings as far as it will go. The rear light must be flush with the body contour.
Ц Use the screw to secure the rear light from the luggage compartment.
Ц Make sure that all bulbs for the rear lights are working.

Caution
Take care when installing the rear light to make sure there is no damage to the paintwork or any of its components.