Removing bulb carrier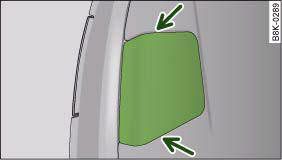 Boot lid: Opening the cover in the boot lid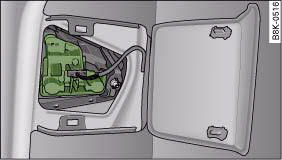 Boot lid: Removing bulb carrier
The description for changing the bulb refers to the left rear light unit; in principle the same procedure applies to the right rear light unit.
Ц Check which of the bulbs is defective.
Ц Open the boot lid.
Ц Take the screwdriver out of the vehicle tool kit.
Ц Using the flat-blade side of the reversible screwdriver insert, carefully detach the cover cap ⇒ fig. 307 -arrows-.
Ц Release the retaining tab and remove the bulb carrier from the light unit.
Ц Change the bulb.