General notes
The driver information system in the instrument cluster shows you the status of various on-board systems at a glance.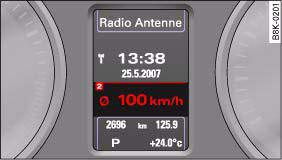 Fig. 8 Dashboard: Display in instrument cluster (automatic gearbox)
The display for the driver information system is in the centre of the instrument cluster.
The system runs a check on certain components and functions when the ignition is switched on and while the vehicle is moving. It gives an audible warning if a fault should occur or if servicing is required, and a red or yellow warning symbol (in some cases with a corresponding driver message) appears in the dashboard display.
The system will also display information for the radio and CD player and (if fitted) the route guidance directions from the navigation system*. For further information on these systems, please refer to the MMI operating manual.
On some models the display of information shown in the instrument cluster differs from the illustrations used here.
The driver information system includes the following functions: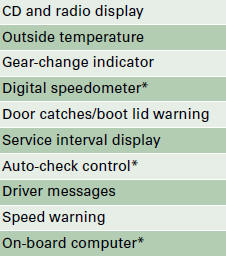 Note
If a fault should occur, the display will show a red or yellow warning symbol. A red warning symbol indicates a serious malfunction. A yellow warning symbol indicates a less serious malfunction, or other item requiring attention.