Door catches / boot lid warning
The pictogram shows whether the doors and the boot lid, etc. are properly closed when driving off.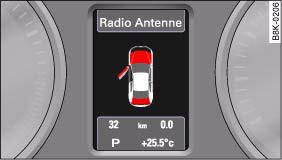 Fig. 14 Display: Door catches/boot lid warning
The door catches/boot lid warning symbol lights up if one or more of the doors, or the bonnet or boot lid are not properly closed when the ignition is on. The symbol also indicates which of these is not properly closed.
The warning symbol disappears when all the doors, the bonnet and the boot lid are completely closed, and the driver information functions selected will then be displayed again.