Locking and unlocking the vehicle with the remote control key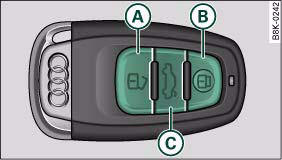 Fig. 36 Remote control key: Control buttons
Ц Press the

button to unlock the vehicle.
Ц Press the

button to lock the vehicle ⇒

.
Ц Press the

button briefly to unlock the boot lid.
Ц Press the

button for at least one second to open the boot lid.
The vehicle will be locked again automatically if you do not open one of the doors, the boot lid or the bonnet within 60 seconds after unlocking the car. This function prevents the vehicle from remaining unlocked if the unlocking button is pressed by mistake.
The system will either unlock all the doors or certain doors only, depending on the settings you have chosen on the MMI.
On vehicles with the advanced key* the selector lever must be in P, otherwise it will not be possible to lock the vehicle.

WARNING
Do not leave anyone (especially children) in the car if it is locked from the outside and the deadlock mechanism is activated: the doors and windows cannot then be opened from the inside.
Locked doors could delay assistance in an emergency, potentially putting lives at risk.

Note
Do not use the remote control key when the vehicle is out of sight.