Extending the luggage compartment from the boot
The backrests can be folded forwards to increase the storage space.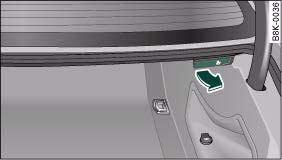 Fig. 85 Release lever in luggage compartment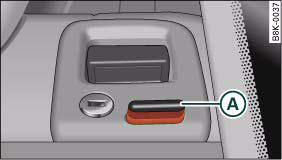 Fig. 86 Safety knob
Releasing and folding down backrest
Ц When you pull the release lever ⇒ fig. 85 in the direction of the arrow, the safety knob A ⇒ fig. 86 will pop up and the red marking on the knob will become visible.
Ц Fold down the backrest.
Returning backrest to an upright position
Ц Push the backrest up again until it engages securely ⇒

. The red marking on the safety knob A ⇒ fig. 86 should no longer be visible when the backrest is properly secured.
When the backrest is properly engaged in its upright position, it can be locked and unlocked with the key. This prevents unauthorised access to the luggage compartment from inside the vehicle.
The luggage compartment can only be extended from the boot when the backrest is not locked with the key.

WARNING
The rear backrest must always be securely latched so that objects stored in the luggage compartment will not fly forward during sudden braking.

Caution
When returning the backrest to an upright position, make sure that the seat belts for the rear seats are in their guides so that they cannot be caught up and damaged in the catches for the backrest.
It is also important to remove any other objects from the rear seats to avoid damaging the backrest when folding it forwards.