Cup holders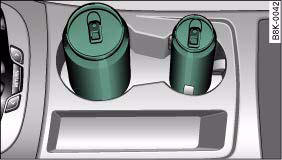 Fig. 93 Centre console: Front cup holder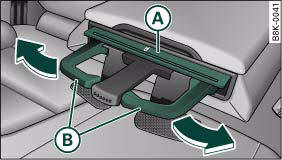 Fig. 94 Cup holder in rear armrest
Front cup holder
Ц Two drinks can be placed in this cup holder ⇒ fig. 93.
Opening rear cup holder
Ц Press the symbol

A ⇒ fig. 94.
Placing drinks in rear cup holder
Ц To adjust the arm of the cup holder B, move it in the direction indicated by the arrow.
Ц Position the cup in the holder and let go of the arm. The arm will move back automatically to secure the cup.
Closing cup holder
Ц Press the middle piece between the two arms and push the cup holder back into the shaft as far as it will go.
The retainer arm should be positioned against the drinks container so that it is held securely.
One or two drink containers can be held in the centre armrest.

WARNING
Х Do not put any hot drinks in the cup holders while the vehicle is moving. You could be scalded if the hot liquid is spilt.
Х Do not use hard china cups or glasses. These could cause injury in the event of an accident.

Caution
You should avoid putting open drinks containers in the cup holders.
The drinks could otherwise spill over and cause damage to e.g. the electrical equipment or the seat covers.