Front ashtray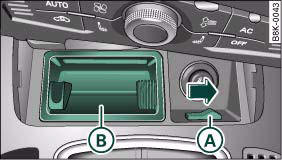 Fig. 95 Centre console: Ashtray open
Opening ashtray
Ц Slide the cover open.
Closing ashtray
Ц Lightly press the cover to make the ashtray close automatically.
Removing ashtray
Ц Slide the switch A ⇒ fig. 95 to the right to release the ashtray.
Ц Take out the ashtray B ⇒ fig. 95.
Inserting ashtray
Ц Insert the ashtray and press it into its mountings.

WARNING
Never put waste paper in the ashtray, as this could cause a fire.