General notes
You can change the basic settings for the air conditioner on the MMI* or on the sound system control console.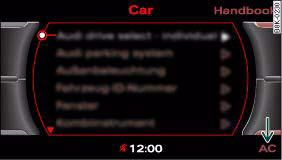 Fig. 111 MMI display: AC menu option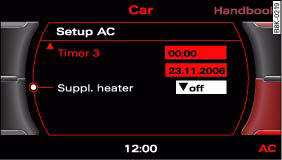 Fig. 112 MMI display: Setup AC
Ц Press the function selector button marked CAR.
Ц Press the control button for AC ⇒ fig. 111.
Ц Select the desired air conditioner settings using the rotary pushbutton ⇒ fig. 112.
The following functions are available:
Х Auxiliary heating*
Х Auxiliary ventilation*
Х Running time*
Х Timer status*
Х Timer 1*
Х Timer 2*
Х Timer 3*<>