Parking mode 1
"Parking mode 1" can, for example, be used to assist you when parking in a garage or carport.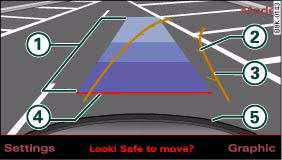 Fig. 149 MMI display: Driving into the parking space with the correct steering angle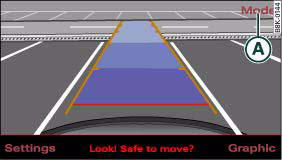 Fig. 150 MMI display: Aligning the vehicle with the help of the blue area markings
– Activate the reversing camera.
"Parking mode 1" ⇒ fig. 149 is the standard setting.
Dynamic orange-coloured orientation lines 3 and static blue area markings 1 will be projected onto the image of the reversing camera.
– When the vehicle is stationary, use the orange orientation lines as a guide for turning the steering to the correct angle for the parking space.
– Reverse into the space and adapt the steering angle to the parking space, using the orange lines to assist you ⇒

.
– Align your vehicle according to the blue area marking.
The blue area marking should be parallel to the lines of the parking space.
1 Blue area marking
The marking behind the vehicle (in different shades of blue) is an extension of the vehicle outline. It reaches about five metres to the rear of the vehicle. The shade of blue changes at a distance of approx. 1 m, 2 m and 5 m from the vehicle.
2 and 3 Orange orientation lines
The orientation lines change direction according to the steering angle. These lines represent the path which the rear of the vehicle would take if you were to reverse using the current steering angle.
The dynamic orientation lines also have additional markers 2 which are spaced approx. 1 metre apart. These markers help you to judge the distance up to an obstacle.
4 Red line
The distance from your rear bumper 5 to the red line is approx.
40 cm ⇒

. From here at the latest, the driver should not reverse any further.
5 Rear bumper
For better orientation the rear bumper of your vehicle is also shown in the MMI display.

WARNING
Please note that objects which are not touching the ground may appear to be further away than they actually are (e.g. the bumper of a parked vehicle, a towing bracket or the rear end of a truck). In this case you should not use the orientation lines for judging the distance (accident risk).

Caution
The MMI display shows the path of the rear end of the vehicle if you were to reverse using the current steering angle. NB: The front end of the vehicle swings out further than the rear.

Note
• To ensure that the reversing camera works properly, the lens of the camera ⇒ fig. 143 must be kept clean and free of snow and ice. Please observe the additional notes on.