Switching graphic display/reversing camera on and off
The settings for the graphic display and reversing camera can be selected on the sound system or MMI.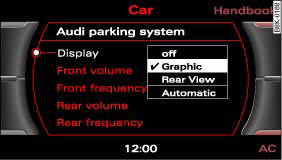 Fig. 155 MMI display: Display APS - submenu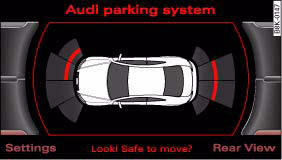 Fig. 156 MMI display: proximity graphic
– Select: Function selector button CAR > Audi parking system > Display ⇒ fig. 155.
When parking, you can use the reversing camera (Rear View) and the graphic display separately or in combination.
If you manually switch over to the reversing camera by pressing the control button marked Rear View ⇒ fig. 156 the control button in the bottom right-hand corner will show Graphic ⇒fig. 152. You can use the control buttons to switch between the Rear View camera and Graphic display at any time as desired. The settings selected on the sound system or MMI remain stored.
Setting "Graphic":
If you have selected Graphic in the settings, the screen ⇒ fig. 156 will automatically show the graphic display when the parking system is activated.
Setting "Rear View"
If you have selected Rear View the reversing camera image ⇒ fig. 150 will be displayed whenever you activate the parking system (both when reversing and when driving forwards).
Setting "Automatic":
If you have selected Automatic the screen will automatically show the reversing camera image when you engage reverse gear and the graphic display when you drive forwards.
Setting "Off":
If you select off the reversing camera and graphic display are both deactivated. The acoustic parking aid will, however, remain activated.

Note
If you change the settings on the sound system or MMI, the changes will not take effect until the next time you switch on the parking system.