Note on distances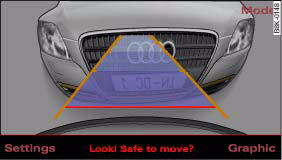 Fig. 158 MMI display: Red line makes contact with bumper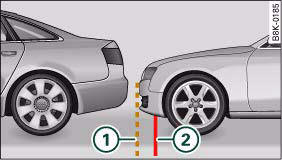 Fig. 159 Actual distance to bumper
The red line in the MMI display ⇒ fig. 158 marks the distance which you should keep to an obstacle when parking. If the obstacle is located at road surface level you can approach the obstacle until the red line (40 cm distance) makes contact with the obstacle. However, if the obstacle is not at road surface level (e.g. the bumper of another vehicle) you should not approach the obstacle allowing the red line to make contact with the obstacle.
If you, for example, reverse towards a vehicle, the orientation lines and area markings in the MMI display appear to be overlapping onto the vehicle behind ⇒ fig. 158. In the example shown in the picture the red line in the MMI display is directly on the bumper of the vehicle behind. In actual fact, however, the red line 2 ⇒ fig. 159 is not making contact with the bumper but has already moved underneath the bumper. The actual distance to the vehicle behind (broken line 1) is already much less than 40 cm. You must also include the bumper of your own vehicle in the calculation of the distance ⇒

.

WARNING
Х Please note that objects which are not touching the ground may appear to be further away than they actually are (e.g. the bumper of a parked vehicle, a towing bracket or the rear end of a truck). In this case you should not use the orientation lines for judging the distance (accident risk).
Х Please make sure you keep a sufficient distance between the vehicle and any obstacles to make sure that the exterior mirror or edge of the vehicle do not collide with the obstacle (accident risk).
Х The parking aid cannot replace the full concentration of the driver. The driver is always responsible for safety during parking and other manoeuvres. Always keep a close watch on the area around the vehicle.
Х When parking or manoeuvring do not rely solely on the MMI display. Some objects (e.g. narrow posts or bars) may - due to the resolution of the display screen - not be displayed in a satisfactory manner or may not be displayed at all.