Description of head-protection airbags
The head-protection airbags work together with the side airbag system to give extra protection in a side impact.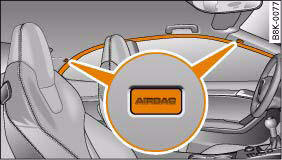 Fig. 182 Location of head-protection airbags above the doors
The head-protection airbags are located above the doors on the left and right sides of the vehicle ⇒ fig. 182. The locations of the airbags are marked with the word "AIRBAG".
In conjunction with the three-point seat belts and side airbags, the head-protection airbags give the occupants additional protection against head and neck injuries in a severe side collision ⇒

in "Important safety notes on the head-protection airbags.
Together with other design features (including cross-braces in the seats and the overall strength of the body structure), the sideguard system offers an effective further improvement to occupant protection in side impacts.