Opening the bonnet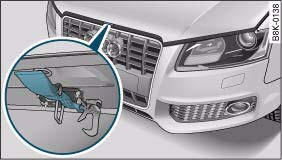 Fig. 211 Release catch under the bonnet
Before opening the bonnet make sure that the windscreen wiper arms are not lifted away from the glass. Otherwise the paint may get damaged.
Ц Lift the bonnet slightly ⇒

.
Ц Press the release catch under the bonnet upwards ⇒ fig. 211. This will release the arrester hook.
Ц Open the bonnet.
The bonnet is held open by two gas-filled struts.

WARNING
To avoid the risk of being scalded, never open the bonnet if you see steam or coolant escaping from the engine compartment. Wait until no steam or coolant can be seen before opening the bonnet.