Charging the battery
Terminals for charging the battery are fitted in the engine compartment.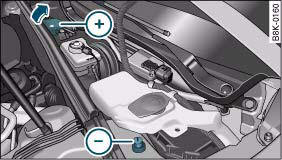 Fig. 217 Engine compartment: Terminals for jump leads and battery charger
– Note the warnings ⇒

in "Important safety warnings for handling a car battery" and ⇒

.
– Switch off all electrical equipment. Remove the ignition key.
– Open the bonnet.
– Open the red cap on the positive terminal ⇒ fig. 217.
– Follow the correct procedure for connecting the charger cables to the jump-start terminals (terminal with red cap = "positive", terminal with hexagon = "negative").
– Now connect the battery charger to the mains and switch on.
– After charging the battery: switch off the battery charger and disconnect the mains cable.
– Now disconnect the charger cables.
– Refit the red cap onto the positive terminal.
– Close the bonnet.
When it is discharged the battery can freeze at temperatures around 0°C. A frozen battery must be thawed before charging ⇒

.
However, it is advisable to replace the battery if it has frozen, because the ice can crack the battery casing and allow the battery acid to escape.
Charging the battery
Important: Before you charge the battery make sure you read the manufacturer's instructions for using the battery charger.
When charging with a low current (for instance with a small battery charger) the battery does not have to be disconnected. The battery must not be opened while you are charging it.
Fast-charging the battery
For technical reasons it is not permissible to fast-charge the battery using charging devices with an output voltage higher than 14.8 V.

WARNING
Never charge a frozen battery – it could explode.

Note
Use only the terminals in the engine compartment to charge the battery.