Changing bulbs
All bulbs can be changed easily after removing the rear light.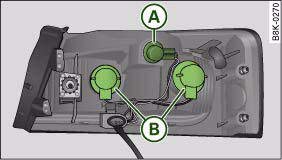 Fig. 254 Position of bulbs in rear light. Example: outer left rear light
The bulbs are secured with a bayonet fastener. The table below gives an overview of the bulb positions.
Ц Remove the relevant bulb holder.
Ц Change the bulb.
Ц Install the bulb holder.
Ц Check whether the new bulb is working.
Ц Re-install the rear light.
Position of bulbs