Changing bulbs
All bulbs can be changed easily on the bulb carrier.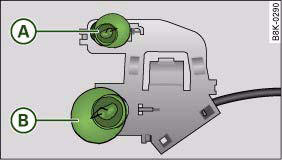 Fig. 259 Bulb carrier for boot lid: Position of the bulbs
The bulbs are secured with a bayonet fastener. The table below gives an overview of the bulb positions.
Ц Lightly press the defective bulb into the bulb carrier, then turn it anti-clockwise and remove it.
Ц Fit the new bulb, pressing it into the bulb holder and turn it clockwise as far as it will go.
Ц Use a cloth to remove any fingerprints from the glass part of the bulb.
Ц Check whether the new bulb is working.
Ц Re-install the bulb carrier.
Position of bulbs