Headlight range control
When the dipped beam headlights are switched on, the range of the headlights can be adjusted to suit the load being carried.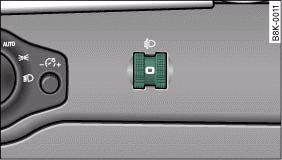 Headlight range control
– Turn the thumbwheel
, fig. 53 to the appropriate setting.
Adjustment settings
The settings correspond roughly to the following load conditions:
0 Two front occupants, luggage compartment empty
1 All seats occupied, luggage compartment empty
2 All seats occupied, luggage compartment loaded
3 Driver only, luggage compartment loaded

Caution
Always adjust the headlights to avoid dazzling oncoming traffic.
Make sure you lower the headlights when the vehicle is carrying a heavy load.