Easy-entry function
The easy-entry function gives improved access to the rear seats.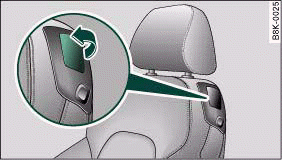 Driver's seat: Lever on backrest
Folding down backrest and moving front seats forwards
Ц Pull up the lever.
Ц Keep holding the lever and fold down the backrest.
Ц Let go of the lever and push the seat forwards.
Moving front seat back and returning backrest to an upright position
Ц Push the front seat back before you return the backrest to an upright position. Otherwise, it will not be possible to move the seat back to its original position.

WARNING
Before you drive off, always make sure the front seats are upright and securely locked in position.