Changing bulb for side lights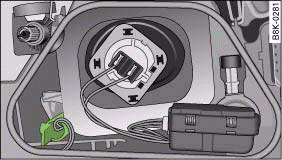 Bulb holder for side lights is highlighted
Removing bulb for side lights
– Remove the headlight.
– Swivel the retaining clip of the cover upwards.
– Take off the cover, in "Changing bulbs" on page 276.
– Grasp the bulb holder by the handle and pull it out.
– Lightly press the defective bulb into the bulb carrier, then turn it anti-clockwise and remove it.
Installing bulb for side lights
– Fit the new bulb, pressing it into the bulb holder and turn it clockwise as far as it will go.
– Use a clean cloth to remove any fingerprints from the glass part of the bulb.
– Insert the bulb carrier into the headlight.
– Fit the cover and swivel the retaining clip downwards.
– Install the headlight.
– Check whether the new bulb is working.