Switching lights on and off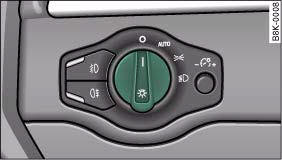 Dashboard: Light switch
Switching on automatic headlights* (AUTO)
Ц Turn the light switch to AUTO ⇒ fig. 54.
Switching on the side lights
Ц Turn the light switch to position

.
Switching on dipped headlights
Ц Turn the light switch to position

.
Switching off the lights
Ц Turn the light switch to position O.
Automatic headlight control (AUTO)*
When the switch is set to AUTO, the headlights switch on automatically according to the ambient light conditions, for instance in a tunnel, at sunset, or in the rain or snow. The ( symbol lights up when the dipped headlights are on. The headlights are switched on, regardless of the light conditions, when you switch on the fog lights.
The headlights are switched off automatically when you switch off the ignition.
On vehicles with a rain sensor, the headlights switch on automatically after several windscreen wiper cycles. The instrument lighting does not switch on, however.
While using the automatic headlights you can activate the main beam headlights as normal if this function has been activated in the MMI. However, if you switch on the main beam headlights while using the AUTO function and then do not switch back to the dipped headlights setting, only the dipped headlights will come on the next time you switch on the AUTO function. To be able to use the main beam headlights again you must first pull the main beam lever back to the "off" position and then push it forward to "on".
Malfunction of light sensor
If a malfunction should occur in the light sensor, the instrument cluster will show the message:

Automatic headlights / automatic wipers defective
For safety reasons, the dipped beam headlights will then be switched on permanently when the light switch is set to the AUTO position. However, you can still switch the lights on and off in the normal way with the light switch. You should have the light sensor checked by a qualified workshop as soon as possible.

WARNING
The automatic headlights are only intended to assist the driver. The driver must always ensure that the headlights are used when required, and may have to switch them on manually when the light conditions or visibility are poor. For example, the light sensors are not able to detect fog. Therefore, you should always switch on the headlights

in these conditions and when driving after dark.

Note
Х The light sensor for automatic headlight control is located in the mounting for the interior mirror. Do not affix any stickers on this section of the windscreen to avoid malfunctioning of the sensor.
Х Some of the settings for the exterior lighting can be adjustedgggggg 59.
Х If the lights are left on after the key has been taken out of the ignition lock, a buzzer sounds when the driver's door is opened.
Х The use of the lighting described here is subject to the relevant statutory requirements.
Х The coming home/leaving home function is active only when the light switch is set to AUTO.