Driver intervention prompt
The driver intervention prompt is a warning for the driver to reduce speed manually.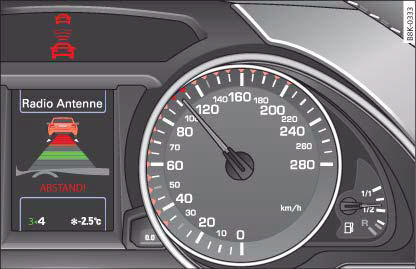 Instrument cluster: Driver intervention prompt
In some situations the adaptive cruise control system alone is not able to brake the vehicle sufficiently to maintain a safe distance to the vehicle in front. The adaptive cruise control system will then call on you as the driver to take control of the situation yourself.
The Driver intervention prompt provides both a visual and an acoustic warning.
• A red vehicle symbol will appear in the instrument cluster display ⇒ fig. 147.
• The system status indicator will show DISTANCE!.
• The red warning lamp will start to flash.
• An acoustic warning will also sound (unless it has been deactivated in the sound system or MMI* settings).

Note
• Pressing the brake pedal will switch off the adaptive cruise control system. The speed set at that point will, however, remain stored until the adaptive cruise control is activated again.
• To resume the programmed cruising speed, release the brake pedal and pull the control lever towards you, "Switching off the system (with speed memory function) and reactivating it".
• If you exceed the target speed by pressing the accelerator, the driver intervention prompt will not be accompanied by a warning tone. The indicator lamp shown in the display will also switch off when the target speed is exceeded.
• If the adaptive cruise control triggers a braking operation the hydraulic brake system is under pressure. This is why brake pedal travel will be shorter and the pedal will feel "harder".