Switching on and off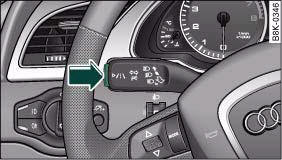 Turn signal lever: Pushbutton for Audi lane assist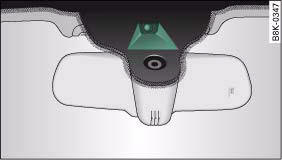 Windscreen: Camera window for Audi lane assist
Ц Press the button ⇒ fig. 158 -arrow- to switch the system on and off. The indicator lamp

in the instrument cluster will light up or go out.
Indicator lamp in instrument cluster

Active: The green indicator lamp confirms that the system is fully functional. You will be warned if you are about to cross the lane markings detected by the system.

Inactive: The yellow warning lamp indicates that the system is switched on. However, you will not be warned if you cross the lane markings. This can have the following causes:
Х There is only one or no lane marking.
Х The system cannot detect the lane markings (e.g. due to snow, dirt, wet conditions or adverse light).
Х There are more than two lane markings in the lane you are driving in (e.g. in roadwork sections).
Х The vehicle's speed is below 65 km/h, the speed at which the lane assist system is activated.
Х The lane is narrower than 2.5 m or wider than 5 m.
Х The bend is too tight.
Note
Х Make sure that the camera window, fig. 159 is not covered with stickers or similar objects.
Х Always keep the camera window clean. Usually it should suffice to operate the windscreen wipers.