Situation with vehicle approaching rapidly from behind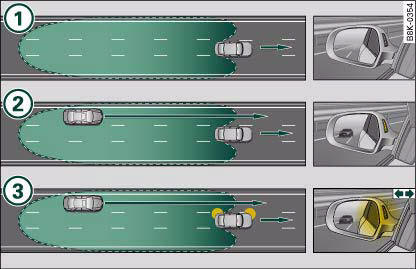 1 Warning lamp on exterior mirror does not light up
The sensors have not detected any vehicles. The warning lamp on the exterior mirror does not light up ⇒

in "Safety notes" on page 157.
2 Warning lamp lights up in information mode
The sensors have detected a rapidly approaching vehicle - in this example in the left-hand lane. Because of its approach speed, this vehicle is already judged to be critical in the event of a lane change even though it is still some distance away. The warning lamp on the exterior mirror lights up in the information mode ⇒ page 151.
3 Warning lamp flashes in warning mode
If you operate the turn signal in situation 2, the warning lamp on the exterior mirror will flash briefly several times. This calls your attention to the presence of a vehicle which you may have overlooked.

Note
• The faster a vehicle approaches, the earlier the warning will appear on the exterior mirror. In all cases, the side assist will give a warning for the vehicles it has detected at the latest when they enter the "blind spot".
• If a vehicle is approaching at high speed it is possible that a lane change may be critical, even though no warning is given.