Correct sitting position for driver
The correct driving position is important for safe and fatigue-free driving.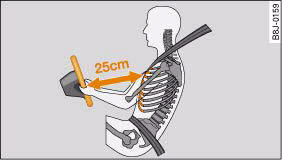 Minimum distance between driver and steering wheel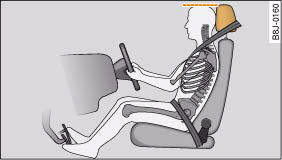 Correct head restraint position for the driver
For your own safety, and to reduce the risk of injury in the event of an accident, we recommend the following driving position.
– Adjust the steering wheel so there is a distance of at least 25 cm between the steering wheel and your breastbone ⇒ fig. 199.
– Move the driver's seat forwards or backwards so that you can press the accelerator, brake and clutch pedals all the way to the floor with your knees slightly bent ⇒

.
– Make sure that you can comfortably reach the top of the steering wheel.
– Adjust the head restraint so that the top of the head restraint is level with the top of your head ⇒ fig. 200.
– Adjust the backrest to an upright position so that your back remains in contact with the upholstery.
– Fasten your seat belt correctly.
– Keep both feet in the footwell so that you are in full control of the vehicle at all times.
For detailed information on how to adjust the driver's seat, see, "Seats and storage".

WARNING
• A driver who is not sitting in the correct position or who is not wearing a seat belt can be fatally injured if the airbag is triggered.
• Adjust the driver's seat so there is a distance of at least 25 cm between your breastbone and the centre of the steering wheel ⇒ fig. 199.
• While driving, always hold the steering wheel with both hands on the outside of the rim at about the 9 o'clock and 3 o'clock position. This reduces the risk of injury if the driver's airbag inflates.
• Never hold the steering wheel at the 12 o'clock position, or with your hands inside the rim or on the steering wheel hub. This could result in serious injuries to the arms, hands and head if the driver's airbag inflates.
• To reduce any risk of injury to the driver during a sudden brake application or in an accident, never drive with the backrest tilted too far back. The airbag system and seat belts can only provide proper protection when the backrest is in an upright position and the driver is wearing the seat belt in the correct position. The further the backrest is tilted back, the greater the risk of injury due to incorrect positioning of the belt webbing or an incorrect sitting position.
• Adjust the head restraint properly so that it can give maximum protection.